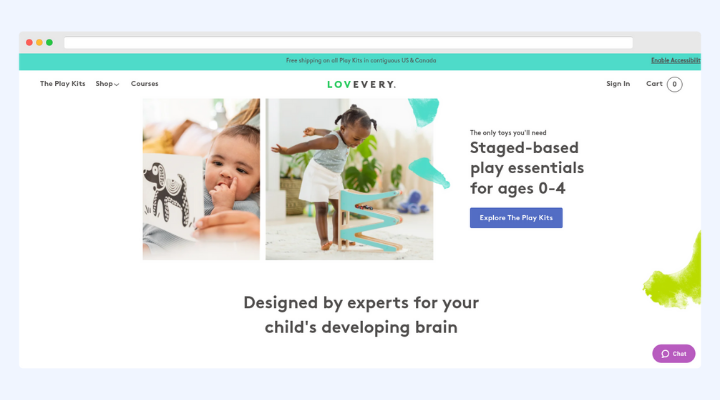 Founded in 2015, Lovevery is a subscription-based, research-backed toy company that aims to create products for specific stages of childhood development. Following the Montessori model, their products encourage hands-on play that develops fine motor skills. Their website also includes educational parenting courses and academic content about childhood growth and development.
This dual approach of play kits and educational content increases consumer retention and has allowed them to thrive during and beyond the pandemic. Their most popular feature, the subscription play set, generates $100 million in recurring revenue year-over-year.
Let's see how they use research and customer segmentation to maximize retention and foster steady growth.
Lovevery users are prompted on the site and through email campaigns to categorize themselves into four styles of play, and are then directed to products that are most relevant to their needs.
Through their email campaigns, parents are consistently directed towards products that are directly relevant to their child's needs.

Above are four of Lovevery's most common email subject lines. From the subject line alone, it is immediately obvious to users if the products are relevant or not.
Similarly on their site, subscription kits are organized by the child's stage of development. This reinforces Lovevery's position as an authority when it comes to childcare, and encourages users to engage with content that is relevant to them.
Lovevery is able to effectively segment their users by supporting their content with verified research. Their blog educates and nurtures users drawing from sources like Harvard University and the University of Maryland. Articles like "What research says about how to respond to your baby's babbles," are organized on the site by age group so users can easily find relevant information and products.

As research in the childcare industry changes year to year, Lovevery's research and development team must stay up to day. Co-founder Rod Morris says that Lovevery is constantly prototyping to create products that align with the latest research.
Lovevery builds their products into users lives by going the extra mile to deliver more value through their content. The content enables them to build segmentation into their site and cultivates an informed consumer base that is incentivized to return to Lovevery in the future.
---
Do you run a Shopify store? If you're looking for a way to get actionable insights on your store, join our early-access program for Shopify. We are taking on a limited number of companies to work with—as an early-user, you get first dibs on new features and help determine the product direction.