There are several ways to export data from Shopify, but it may not always be easy - or possible - to get what you need. Whether you are looking to create specific reports for internal presentations, regular reports for clients, or simply backing up data on your store performance, you need to find the optimal method to export data from your online store. The best way to automate your Shopify export is using Airboxr, a data automation platform built specifically for direct to consumer (DTC) brands. However, there are also other options to explore, as mentioned in this article.
As a popular platform for online selling, Shopify offers various data export options, enabling you to retrieve product details, order information, customer profiles, and analytics. This article explores how to leverage these export features effectively and unlock the full potential of your store's data for better decision-making and growth.
We will be covering these topics:
Preparing for data export
Before initiating the data export process from your Shopify store, you need to make sure you have the necessary permissions to access your data export functionality. Without this, you won't be able to run your export.
For a more thorough preparation, this is what you should also do:
Identify the specific data types you wish to export, such as products, orders, and customers.
Double-check data accuracy and completeness to avoid potential issues during export.
Prepare a data export plan, including the desired file format and export frequency.
Implement GDPR and data protection compliance measures for customer data exports.
Ensure your Shopify store is up-to-date to avoid compatibility issues during export.
With these preparations in place, you can confidently proceed with exporting your Shopify data.
Exporting Shopify products data
Exporting product data from your Shopify store is a straightforward process that provides valuable information for inventory management, pricing strategies, and marketing efforts. To export product data, follow these steps:
In your Shopify admin, go to "Products."
Click on the "Export" button located at the top right corner.
Choose the desired export format, such as comma separated values (CSV) or Excel.
Select the specific data fields you want to include in the export.
Click "Export products" to initiate the download.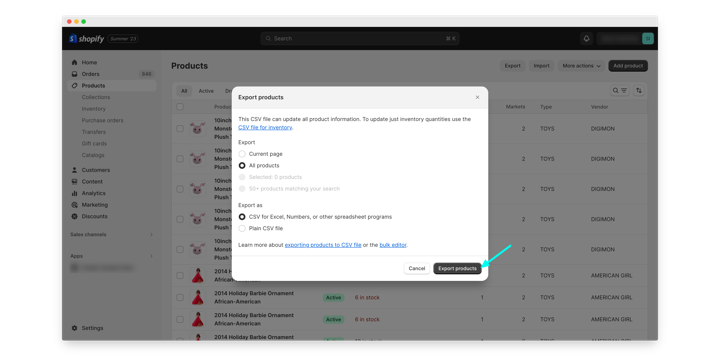 Customizing data fields during export allows you to focus on the most relevant product information for analysis and decision-making. As a best practice, make sure you have a regular schedule for exporting product data so your information is always updated.
Exporting Shopify orders data
Exporting order data from your Shopify store is vital for gaining insights into sales performance, customer behavior, and fulfillment efficiency. To export order data, follow these steps:
In your Shopify admin, navigate to "Orders."
Use the date range filter to select the desired order data.
Click on the "Export" button located at the top right corner.
Choose the preferred export format, such as CSV or Excel.
Select the specific order details and fulfillment information to include.
Click "Export orders" to initiate the download.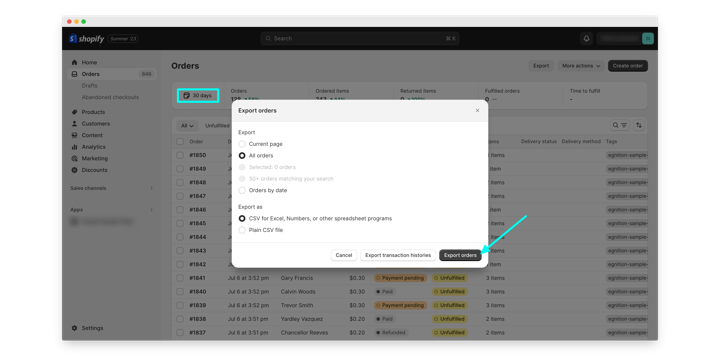 Regularly exporting order data enables you to analyze trends, identify popular products, and optimize your store's operational processes for enhanced customer satisfaction. Stay on top of your sales performance and make data-driven decisions with up-to-date order data exports.
Exporting Shopify customer data
Exporting customer data from your Shopify store empowers you to build stronger customer relationships, implement personalized marketing strategies, and drive customer retention. To export customer data, follow these steps:
In your Shopify admin, access the "Customers" section.
Apply any filters (e.g., customer tags, order history) to refine the data.
Click on the "Export" button at the top right corner.
Choose the desired export format, such as CSV or Excel.
Select the specific customer details and purchase history to include.
Click "Export customers" to initiate the download.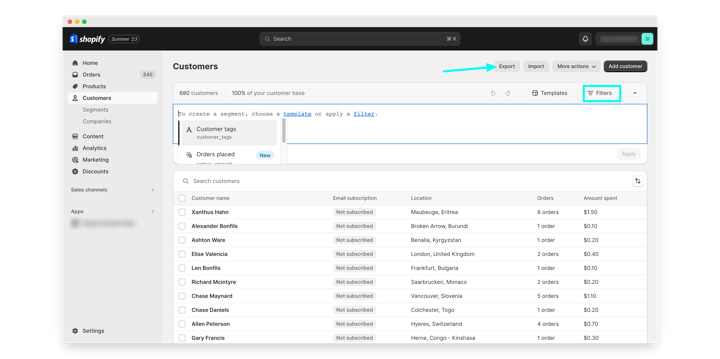 Exported customer data offers valuable insights for targeted marketing campaigns, customer segmentation, and understanding your audience better. Regularly exporting customer data ensures your marketing efforts are well-informed and aligned with your customers' preferences and behaviors.
Exporting Shopify analytics data
Exporting analytics data from your Shopify store provides a comprehensive view of your business's performance and helps you make data-driven decisions. To export analytics data, follow these steps:
In your Shopify admin, navigate to the "Analytics" section, then the "Reports" section.
Select the desired report, such as sales overview, traffic, or conversion rate.
Adjust the date range to analyze specific periods.
Click on the "Export" button located within the report.
Choose the preferred export format, such as CSV or Excel.
Click "Export data" to download the analytics report.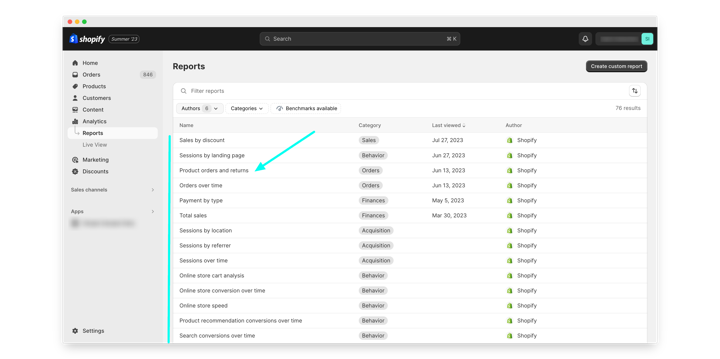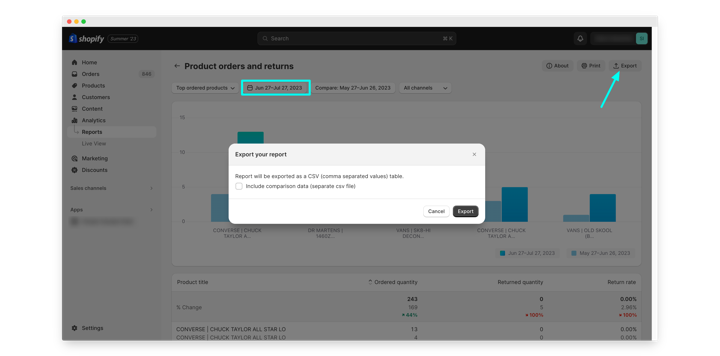 Analyzing Shopify analytics data empowers you to identify trends, measure the effectiveness of marketing campaigns, and optimize your store's performance for increased sales and customer satisfaction. Regularly exporting analytics data allows you to track progress and make data-backed decisions for continuous improvement.
Challenges with Shopify exports
Downloading CSV files every time you want to export a report from your store may not be your idea of time well spent—and it may not be the best way to do your Shopify export. Some challenges with using Shopify exports include:
Difficulty in finding useful reports
One of the main challenges with exporting data directly from the Shopify platform is that the basic reports may not be very useful for you. Depending on how your store has been set up, you may find it necessary to specify your reporting to your needs. In addition, certain reports, like Customers by SKU, are simply not available in Shopify analytics.
Manual and repetitive work
Once you find the reports you need, another challenge you'll face is that exporting data directly from Shopify is manual and repetitive. You have to redo all the filters and other specifications that you had set for every export, every time you need to download the data.
Data cleaning and formatting
After every export, there are three things you need to do before you can use the data:
Validate the data - verify that the information shown is accurate, to avoid any errors in the subsequent processes.
Resolve inconsistencies - address any discrepancies or missing data fields to maintain data integrity and reliability.
Optimize formatting - standardize data formats, such as dates, currencies, and addresses, to facilitate seamless data manipulation.
If you are comparing Shopify data against other platforms, you would have to do the above steps for each of the exported CSV files you have, which can be extremely time consuming and frustrating. In this case, it may make more sense for you to look at some advanced data export techniques to simplify and streamline your processes.
Advanced data export techniques
Beyond Shopify's built-in export features, advanced techniques offer additional flexibility and automation for data extraction. Implement scheduled or event-based data exports to ensure regular updates without manual intervention, streamlining your data analysis process.
Here are some options to consider, which are available on the Shopify App Store:
Automated exports with Airboxr
Airboxr is a platform built specifically for DTC brands that allows you to export inventory, product variants, customer data, sales and revenue, performance marketing performance, and more automatically. It uses the Shopify API to pull the data directly from your Shopify store, as well as other platforms such as Google Ads, Meta Ads, Google Analytics, TikTok Ads, Klaviyo, and Xero, into Google Sheets. Once it is on Google Sheets, you can then use the data to populate a visual dashboard, a master reporting template, do further analysis, or share the spreadsheet directly with your team.
Automated exports with Zapier
Zapier connects a wide variety of data sources together, with ecommerce being one of the industries it can be used for. It helps you export from Shopify and pull your data into another platform which it has integrations with. If you are trying to export data into a spreadsheet, however, note that you may run into formatting issues - for example, they leave a blank line for every new item in the same order.
Use Shopify APIs to build your own automations
If you have engineering resources at your disposal, you may consider building your own data automation system using Shopify's APIs. The benefit of this is you get a fully customized system that does everything you need perfectly. The downside is, if this is not your core business, you may be taking away resources which are needed for other types of engineering work.
In conclusion, if you're looking to do a Shopify export, you may want to consider a solution that you can depend on to do the heavy lifting for you in the long term, so that you can focus on presenting the reports and making business decisions, rather than spending hours laboriously creating the reports from scratch every time. Consider all options before choosing one that suits you best.
How to export Shopify data with Airboxr
Exporting Shopify data directly into your spreadsheet is easy with Airboxr. Here's how to do it:
Create a free Airboxr account.
Go to the Integrations page and connect your Shopify store.
Go to the Hops Marketplace and select a Shopify report that you need (product, orders, customer or analytics reports). Add it to My Hops.
Select the Hop in My Hops and click "Run".
Customize the report if you need.
Click "Run Hop" to automatically retrieve your Shopify data in your spreadsheet.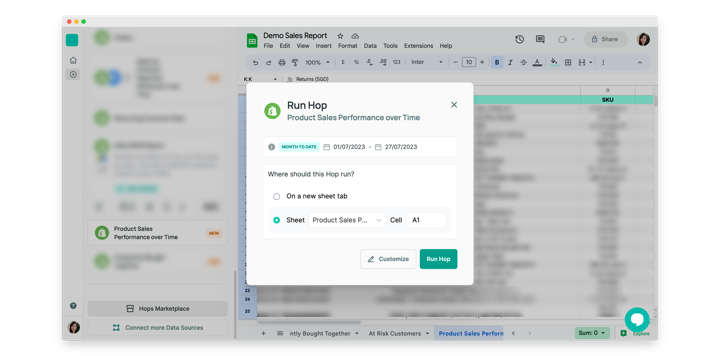 Does data automation make sense for your team? Try Airboxr for free for 14 days.